Who doesn't love being together with friends and family? Especially after being apart during the COVID pandemic. I am sure most of us have missed being together when we want to. As our societies open up, we should embrace the "get-togethers" to enjoy our friends and family. I talked to my friend about this and we have planes to dress up, make a nice meal and have friends over just because we want embrace life!
I like organizing get-togethers and birthdays – always have. It doesn't have to be my party! I would gladly help others with theirs, and I like the creativity, fantasy, thought and work that goes into decorations, food and games. Sometimes everything comes together easily and quickly, and other times most things go wrong before ending up pretty ok. Usually we have smaller get-togethers that are super simple and they might be the best ones. Just bring some food to share and whatever you want to drink – I just want to spend time with you!! But from time to time, a more elaborate party is fun to do.
Different party-ideas
When it comes to ideas for your party, you first have to figure out what age-group you have and then what kind of party you want. It can be done real easy or with a lot of work. And what may be easy and simple for me, can be a lot of work for you, or maybe you think I should have done a lot more. Either way, I have some easy ideas for you.
Birthday parties for kids
We have three kids so there have been quite a few birthday parties. Most of them have been easy parties. Invite the class, have some games, eat hotdogs and cake, some more games and go home. And then there have been the parties with more planning – and help from others!!
Justin Bieber party: all the guests got a Justin Bieber t-shirt and they had a special popstar cake, had competitions, took pictures and sang. The t-shirts I got from a friend made it super special.
Minecraft birthday: the decorations were based on things in the game, as was the colorscheme. We hid gems in the garden, and they went "mining" to collect gems to buy food, drinks and cake. It was a huge success!!
Harry Potter party: the kids dressed up, the table was set with Harry Potter plates and cups, on the walls were different spells and we had different games.
PJ parties: footbaths in the tub – everyone together, nailpolish, dressed in PJs and eating on mats on the floor, a movie and music. We have had pj-parties both with an actual sleep-over – everyone in sleepingbags in the livingroom – and without.
Barbie party: PINK decorations, Barbieplates and cups, pink cake, dress-up game and movie.
"Beachparty" in the garden: water, water spreader, water balloons, picnic, slip-and-slide, trampoline, music and dancecompetitions
Creative party: painting on canvas with only three colors. It was a lot of fun and the kids really had to use their skills and fantasy to blend colors and make a picture. Each kid got one main color and they could blend with black or white.
My youngest has had a lot of birthdays in the gymnastics hall where we have had games, quizes, dance competitions, obstacle courses, footballmatches – both inside and outside. He celebrated with two other boys for several years, so we invited everyone in his year in school – 40 ish kids. Lots of adults and often some teenage helpers.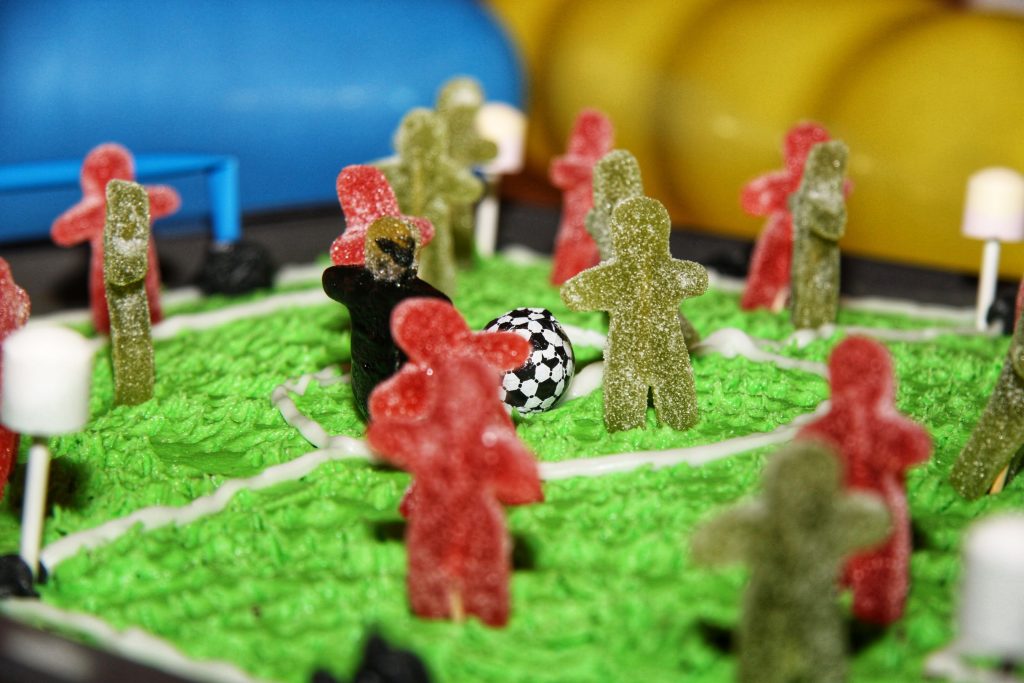 Schoolstuff
At school we have arranged everything from Halloweenparties, babyshower and bachelorette party for the teachers with the class, end-of-school and Christmasparties. A team of people pulling it all together for the kids. There have been photobooths, danceparties, quizes, games, dress-up, pj-party with stuffed animals, cakes, competitions, pizza, hotdogs, soda, happy kids, miserable kids, tired adults, lots of mess to clean up, a trip or two to the emergency room… yeah… a lot of different parties 🙂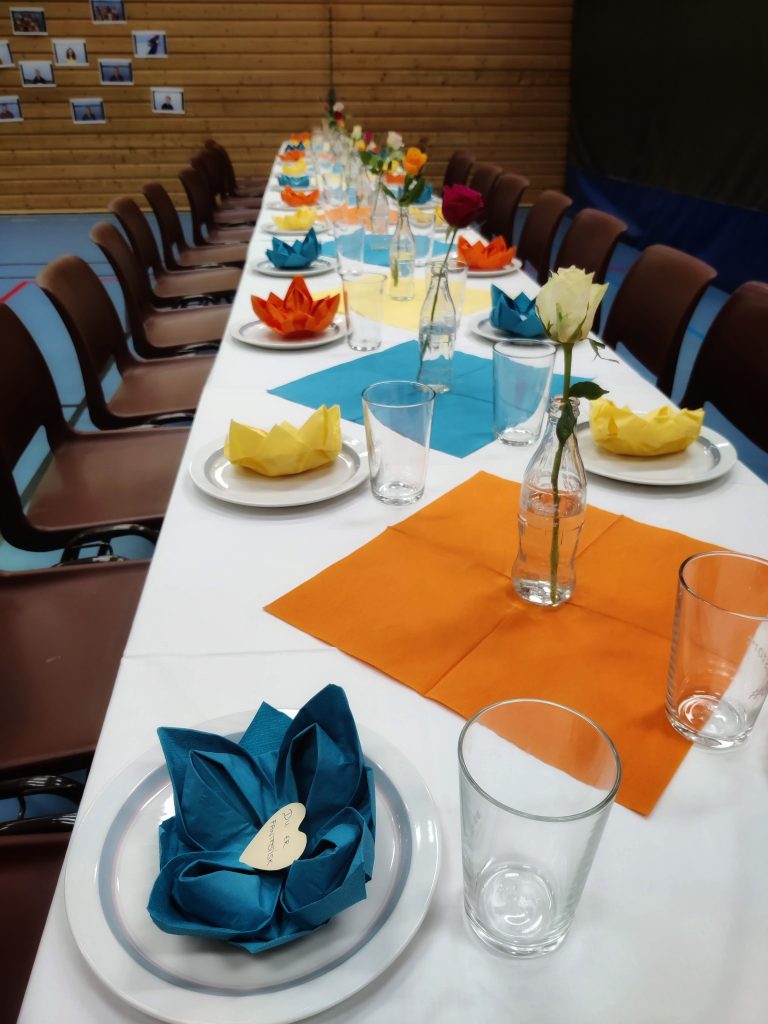 Graduation
We decorated with 300 balloons, waterlilly-shaped napkins and roses in cola-bottles. The ugly tables were hidden under the tablecloths, but we couldn't do much about the ugly chairs…
Pictures of all of the kids hang on the wall – we had taken portraits of the kids during a campingtrip they had – and they got to take the picture home.
Every kid got a glass with the text #dreambig or #goodenough, and a little heart with well-wishes to bring home.
The teachers gave speeches, I said some words from the parents and gave the teachers presents. The kids got roses and diplomas.
They were served soda, pizza and cake. A nice ending 🙂
Other birthdays and get-togethers
This is the part I was talking about with my friend. We usually celebrate our birthdays, but don't have parties for no reason – this needs to change! I am not talking about drinking and going all out with the parties, just doing something more than just inviting a friend over for dinner and a glass of wine..
When my husband and I turned 40, we had a rock-and-roll party. Our guests dressed up thinking Elvis/rockandroll/Grease. We served hamburgers, salad and french fries.
We decorated with white and red tabelcloths, vinyl records as placemats and melted vinyl record-baskets for chips and candy, and there was music from the timeperiod of course.
We were hoping for dancing, but the place we rented had done something really wrong with the dancefloor and it was sticky… but all in all it was a good evening!
My daughter wanted a Hawaii-birthday for her 18th, so we did the best we could with paper, scissors, paint, cardboard and imagination. It took a lot of hours, but it was fun to see it all come together.
We were pleased with the results and her guests liked it too. She served pokebowl and had bamboo plates for candy and chips.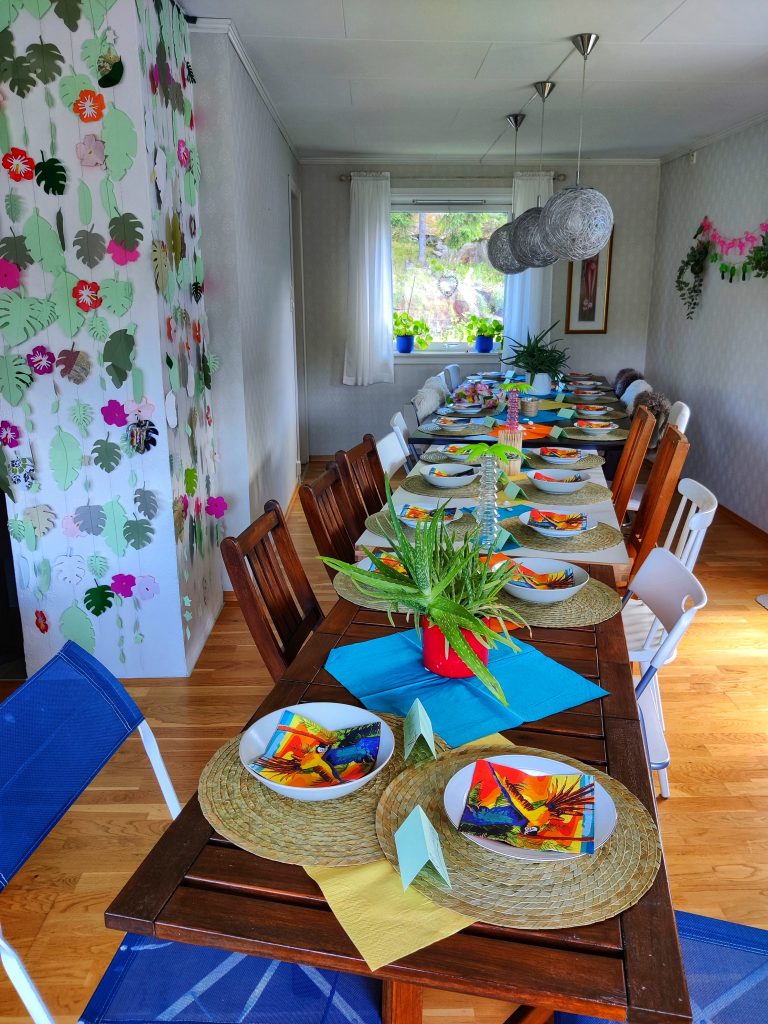 For coming get-togethers I am thinking easy decorations – reusing some from the Hawaiiparty and serving pokebowls, reusing my rock and roll party supplies, and potlucks. The idea is just to get some friends together – dress up if one wants to, eat a little food, maybe some drinks, music and talking.. might even be some dancing. If you have any great partygames for adults, tell me what you recommend doing in a small livingroom 🙂
Or maybe I'll invite some friends over for boardgames, cardgames or creativity of some kind??
Food is always important, and I like tapas, cheeseplatters and easy fingerfood. Something for everyone to enjoy and decide what they want to eat. And I like to invite people to gather around the table, but I don't really like cooking – so I like to make it simple.
Who knows – maybe I'll serve milkshakes with a little extra!!