"Oh the weather outside is frightful,
but…
the YARN is so DELIGHTFUL.
And since we've got no place to go…
ANOTHER ROW
ANOTHER ROW
ANOTHER ROW"
I found this little rewritten verse online somewhere, and today it fits perfectly!
Outside everything is white and it has been cold. I am no fan of the cold, but I do like snow. So sitting in my chair, knitting and looking out at the falling snow – that is kind of great. Maybe an audiobook and a glass of Coca Cola too.
During the last year, I have knitted several sweaters, but still had three projects that had become UFOs – unfinished objects… BUT, I was pretty happy the other day seeing as two were finished and the last one was almost done.
So what did I do???
Well, I started a new project!! Oh no – not again… I'm telling you – I do this EVERY time! So my UFO is a little delayed, but I will FINISH it!!
I will continue with the new project without any guilty conscience. It's a new sweater – to whom, you may ask? Well, I don't know yet. It is a mix between two patterns, so don't quite know how it will end up.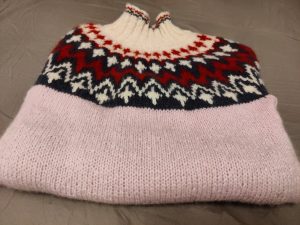 My delayed UFO is a jacket, and I am very proud. Don't get me wrong, there are a LOT of mistakes.
But for the first time in my life, I used scissors on my work. It was pretty scary. I mean – there's a lot of work in making the jacket and I was afraid I would ruin it.
But my longtime UFO is almost done…
We'll just have to see if I get it done by Christmas, between gifts, baking, decorating and everything else that needs doing the next couple of weeks.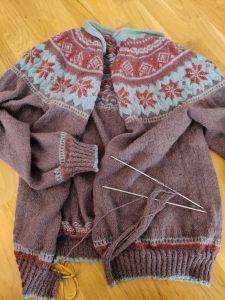 My friend told me that knitting is therapy, and for many people it really is. You can sit down, relax and still be doing something. You can let your mind wander and just focus on the pattern, yarn and needles. For me, it is sometimes therapy and sometimes really not. I go from knitting a lot for a couple of years to no knitting at all for a year, so the therapypart for me comes and goes. During the covid-pandemic, knitting has helped me a lot. Due to poorer health over the past two years, my couch has become a "frienemy" and I have spent many hours knitting in my cosy corner on the couch.
According to Shondaland.com: "Knitting has been shown to promote wellness by reducing stress, creating strong social bonds, and increasing your feelings of usefulness. The repetitive and rhythmic movements of knitting are often equated with meditation."
And textileartscenter.com says: "Within the textile arts knitting has not only been used as an occupational therapy, but also to reduce stress, anxiety, and depression while helping us retain cognitive brain function and physical dexterity in old age. One of the most notable uses of knitting is in Occupational Therapy, or "OT" for short."
So I guess I'll keep knitting! It is beneficial for my health, my cognitive brain function and my stresslevel. People – keep knitting, and if you haven't started yet – buy some yarn and start tomorrow!
Here are some of my other projects the last year. There have been many many more, but some are given away with no pictures taken, and some are not worth mentioning even though I use them and like them.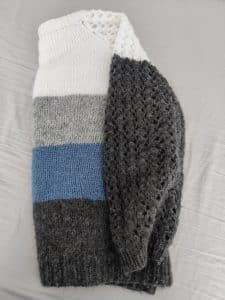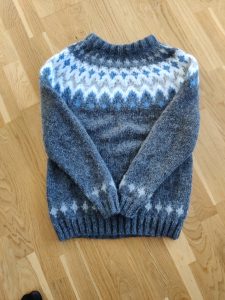 What are some of your favorite things to do?
Do you knit? Any favorite patterns?